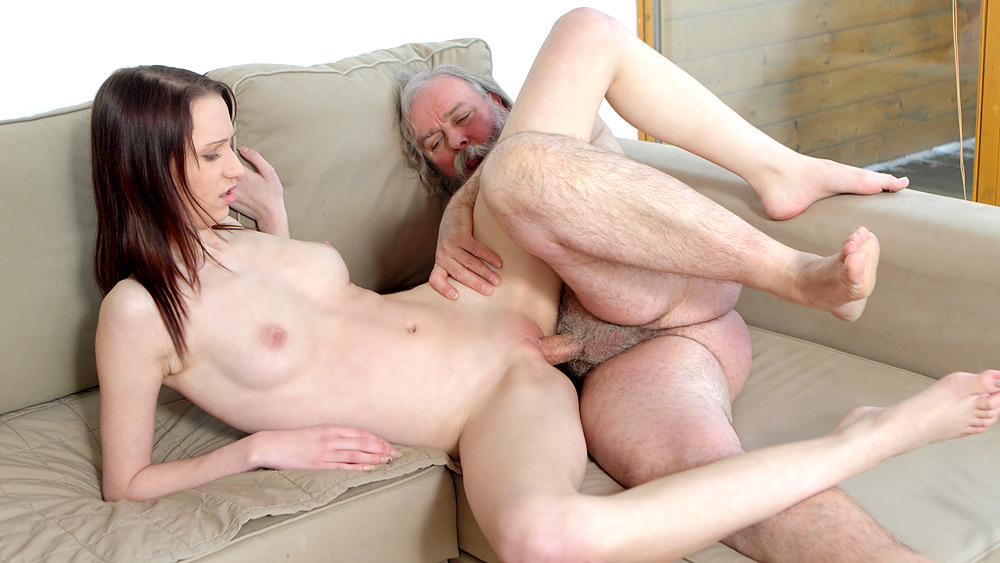 Length: 31:59

Alina is hanging out with her boyfriend when an old man shows up. He's hungry for some tight pussy and pounces on Alina's young body as soon as the other dude is out of the way. Alina has always wondered what it would be like to bang an older man, and now she's finally able to get herself a slab of Jurassic cock. Will she be able to handle the orgasms that this old man pumps into her tight young pussy? She sure as hell looks ready to explode with pleasure once he's inside her warm, moist hole.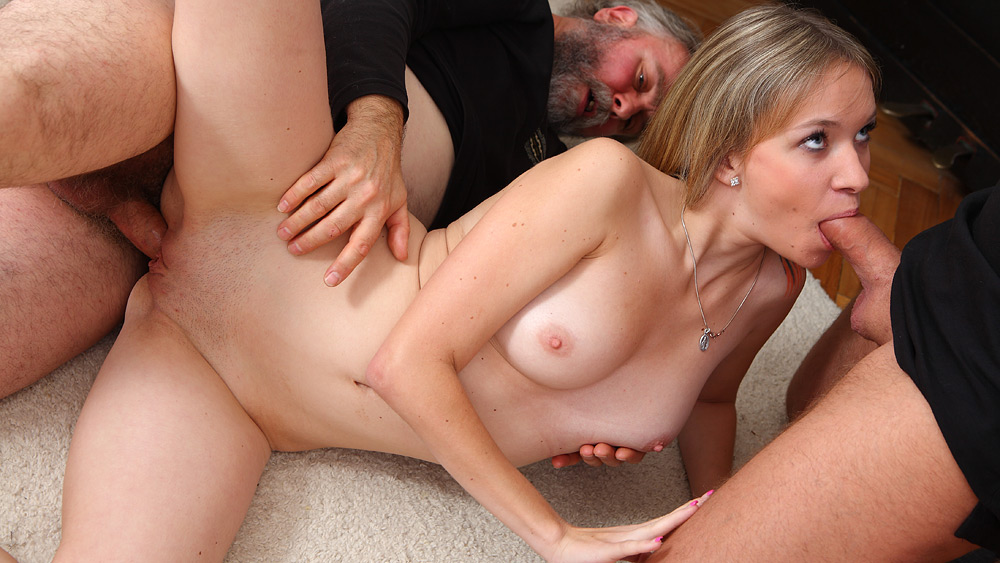 Length: 38:25

We imagine that it's hard to push off the advances of an older, charming man, if you're a young girl; but to be honest we don't care about it as long as we get to see the babe getting nailed by him. That's what happens with Maya. She just doesn't have the willpower to keep the lecherous old dude from getting in her pants. It's not as though she doesn't want it however, because when he suggests these things she simply giggles and goes along with what the old guy wants! Once she drops to her knees and starts chomping on the old guys cock there's no stopping her! When her boyfriend comes back into the room he doesn't have a choice other than to join in the action!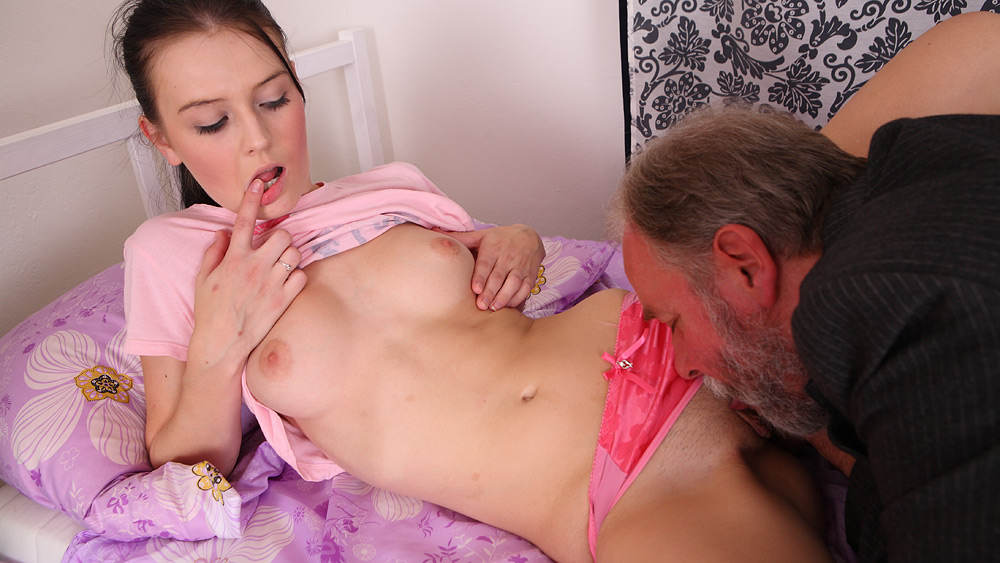 Length: 42:48

Katia is lying down relaxing as her man and an older guest enter her bedroom. Katia's man has his older friend have sex with her today. He lifts her pink top and begins to suck her breasts and nipples. He lifts off her panties and licks her pussy and makes it very wet. She goes to her knees and begins to suck his older cock. He wants Katia and thrusts inside her and fills her with his hard cock. Katia has enough of him, but her man wants more. She takes her older man's cum all over her face and tits and is filled with both older and younger men cum today.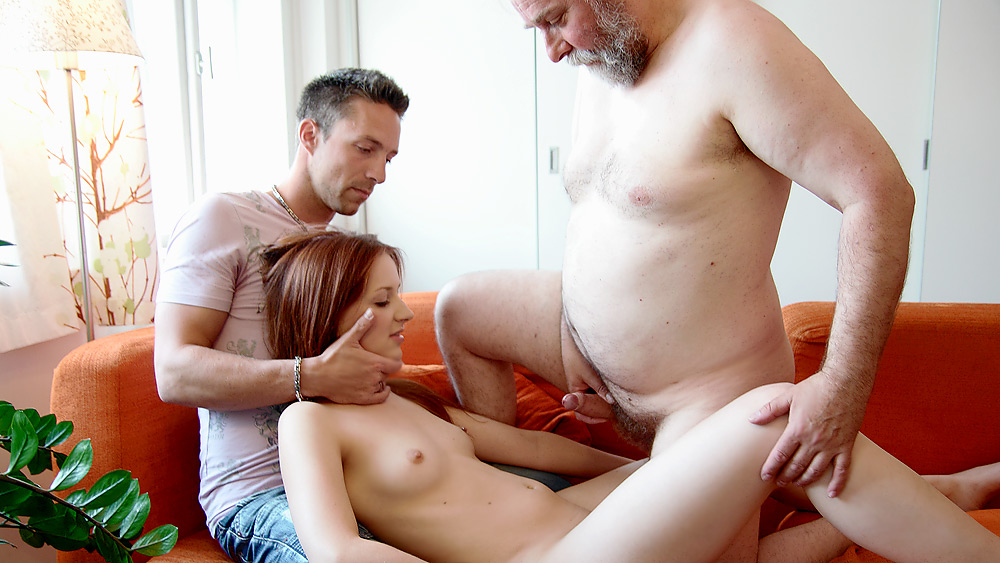 Length: 43:19

Sveta is a young and sexy woman, and she is casually laying on the couch with her man. He tells her that his older friend will be joining them. He arrives and strips off her clothes, and licks out her young pussy. She enjoys that and starts to suck his older cock. He wants to fuck Sveta's young and wet pussy and wants to be deep inside her pussy. He thrusts deep in her young and wet pussy and pushes deep in her. She sucks his cock some more to keep him hard and when he is ready, he cums all over Sveta's young body.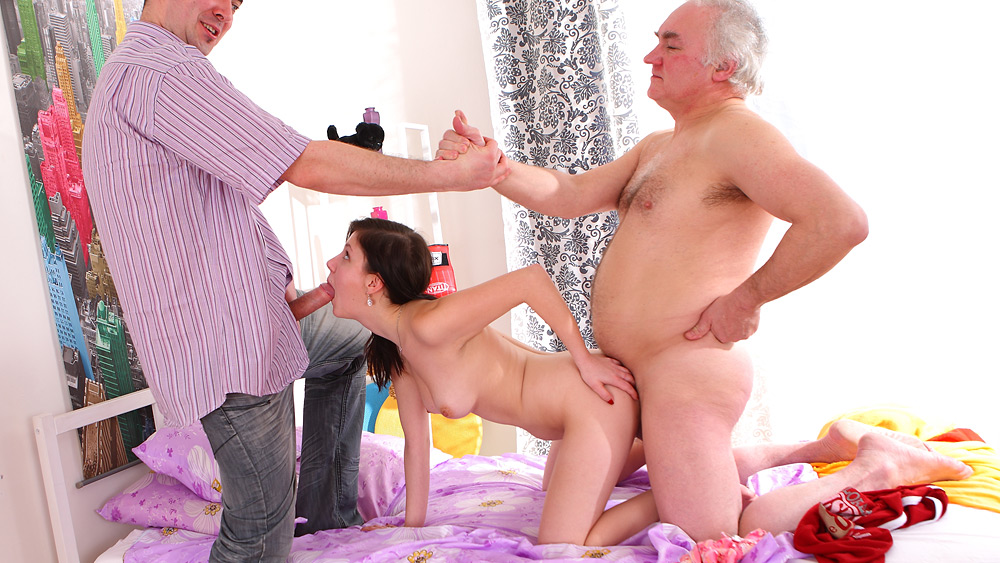 Length: 36:27

Alena and her sexy lover are in bed and her man tells her of his older friend. He wants him to have sex with her. Alena is a young and sexy woman and is in bed with her young lover. He tells her about his older friend, and wants her to fuck him. The older friend climbs into bed with her and begins to suck and lick her young breasts. She loves his older tongue on his body. He then moves to spread her young legs open and lick and eat out her wet and pulsing pussy. He fucks her deeply and thrusts his older cock in her young pussy. Alena then has both of her lovers fuck her at the same time in a sexy threesome. They both finish by cumming all over Alena's sexy face and body.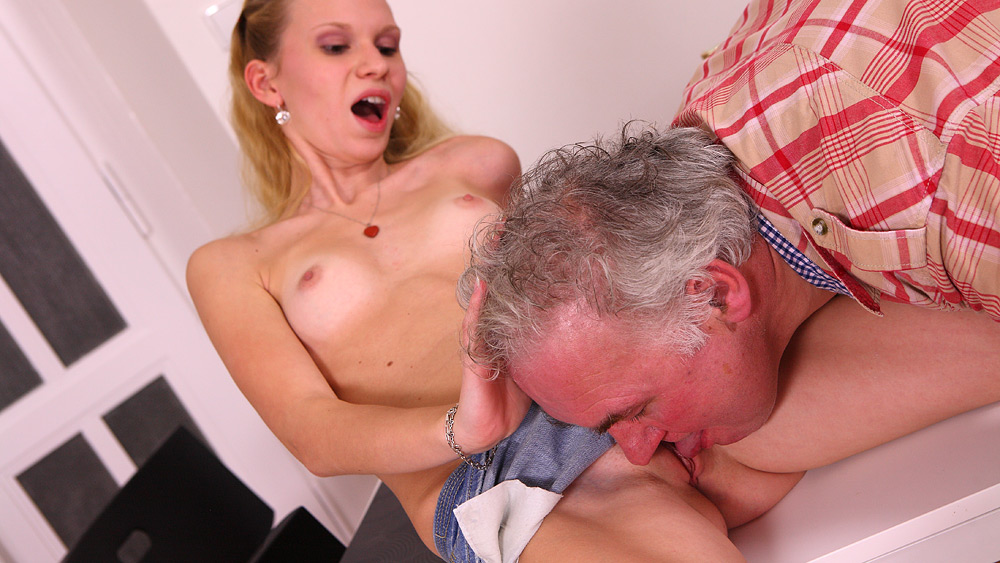 Length: 30:40

Having lunch with your boyfriend is something perfectly natural for Rosy. However, being interrupted by an older guy who then proceeds to seduce you when your boyfriend leaves the room is not a normal occurrence. Rosy loves the attention however. She is incredibly turned on by the attentions of an older man, and this randy old bastard certainly takes advantage of the situation by shoving his cock wherever he can get it. When the boyfriend comes back though the shit really hits the fan and for a moment he is well pissed off with what he sees. However, it doesn't take him long to see the advantageous position it puts him in and is quick to get his cock out for a nice blow job to make up for her disloyalty!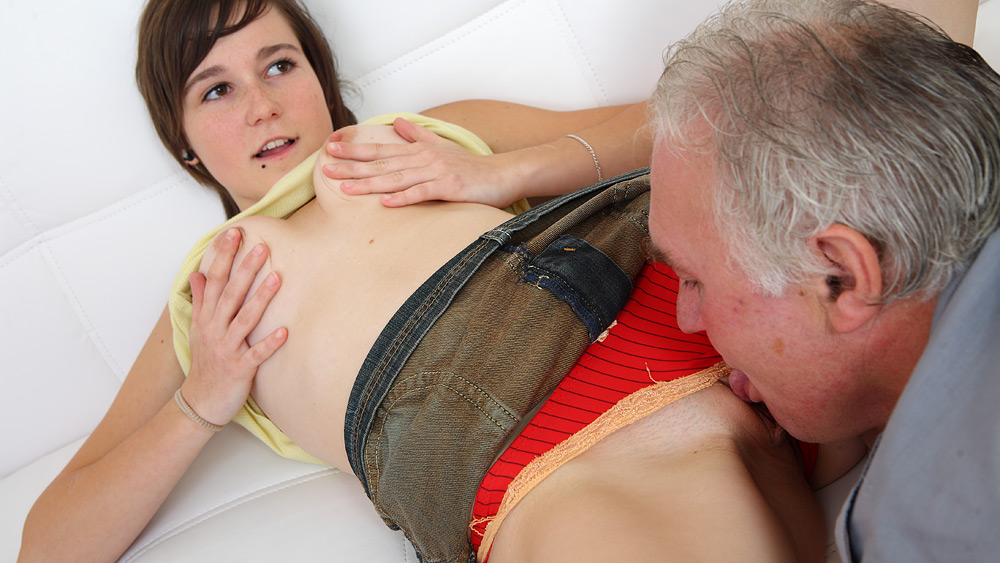 Length: 37:19

Inna is one of those girls who thinks she does her boyfriend proud in the bedroom, and in many cases it's true. However, it's not until she meets an older guy who shows her how to have sex properly and please her man to the max that she realises just how terrible she was! This old guy really goes to town on her and helps her understand just where to touch, suck and how to fuck!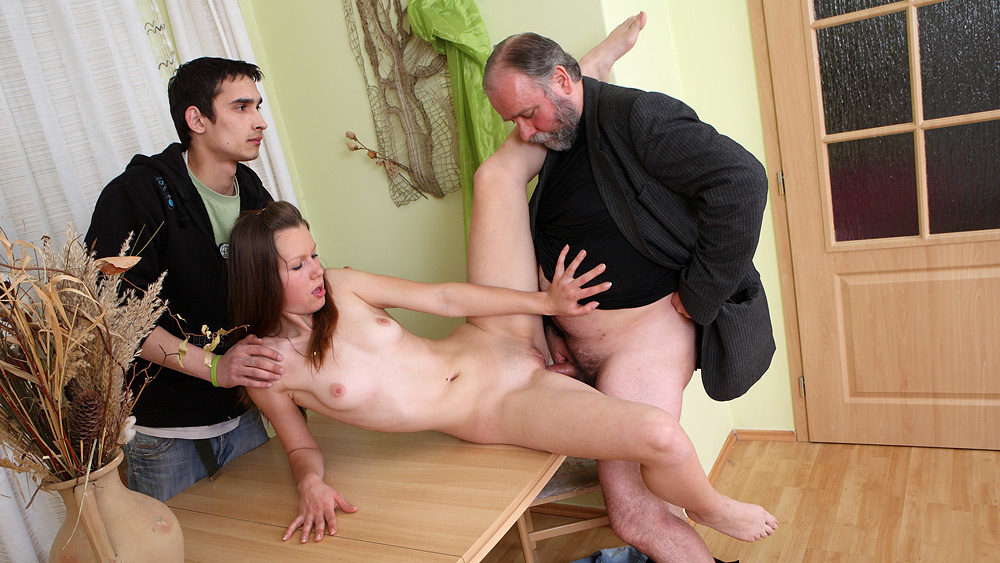 Length: 40:17

Naomi could never have bee ready for what happened to her when her boyfriend left her alone with an older dude. Old Goes Young brings you one of the best old guy, young girl fucking scenes you're ever likely to see in your life! Naomi thought the guy was a sweet old dude and enjoyed chatting with him when her boyfriend left them alone. Little did she know that this silver tongued old geezer would talk his way into her knickers within a few minutes. The old guy knew he didn't have long before the boyfriend cam back so he uk all his skills to get her eating out of his hand, and subsequently eating his cock. The boyfriend comes back eventually to find his lovely Naomi laid on the floor with an old guy hanging out of her pussy, pounding away like a fiddler's elbow! What a scene!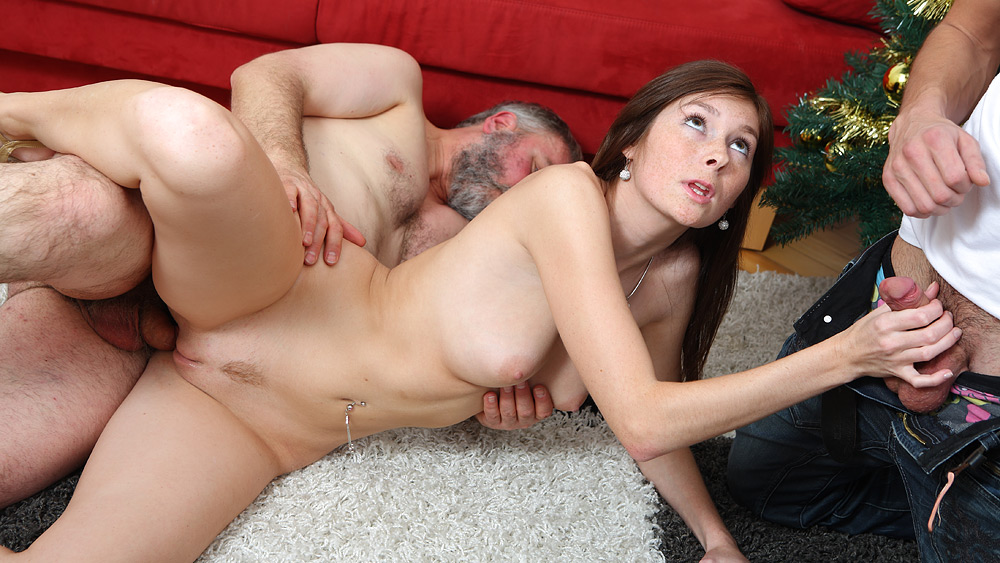 Length: 33:14

When this young man leaves his girlfriend alone with this old guy he has no idea that the filthy, lecherous old fucker intends to get his cock out and make advances on the girl. However, when he is left alone the old dude certainly gets a welcome reaction from this young woman. She loves him licking her pussy and just as he gets her on the floor fucking her nice and hard her boyfriend comes back and ends up joining in for Christ's sake!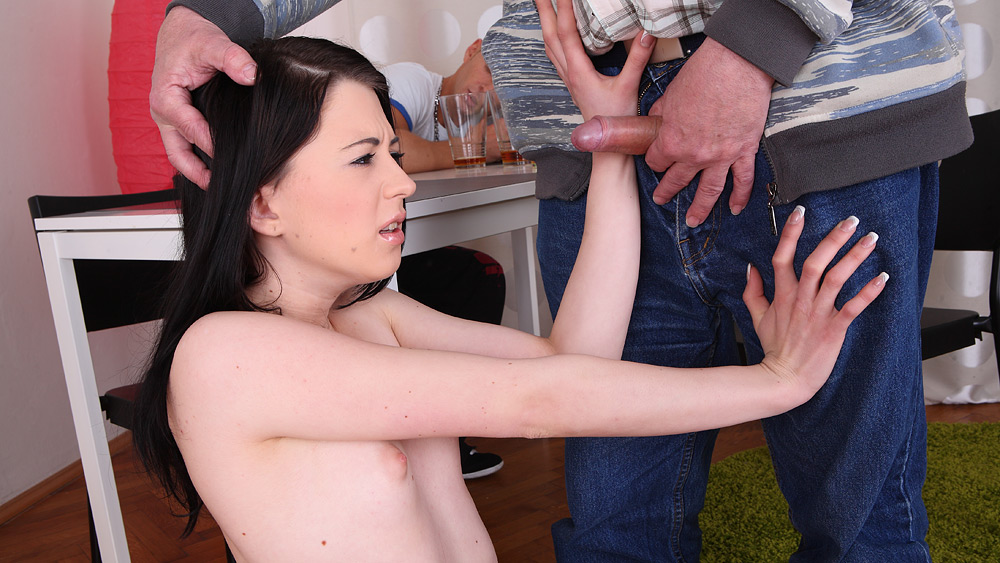 Length: 34:33

Not sure what the fuck is happening in this movie, but I do know that this couple go to visit some old dude that gets to fuck the young babe in the movie. It actually looks as though her man goes to fucking sleep if you can believe it! Whilst he's catching z's the old man makes a move on his babe and she's surprisingly receptive to his advances. It's not long before he's up to his nuts in her tight little pussy having a hell of a time. Her man wakes up to find this going on and goes a bit nuts before realising that this is an opportunity not to be missed and he joins in; recognising that his old dude might actually have a few pointers that could come in handy!