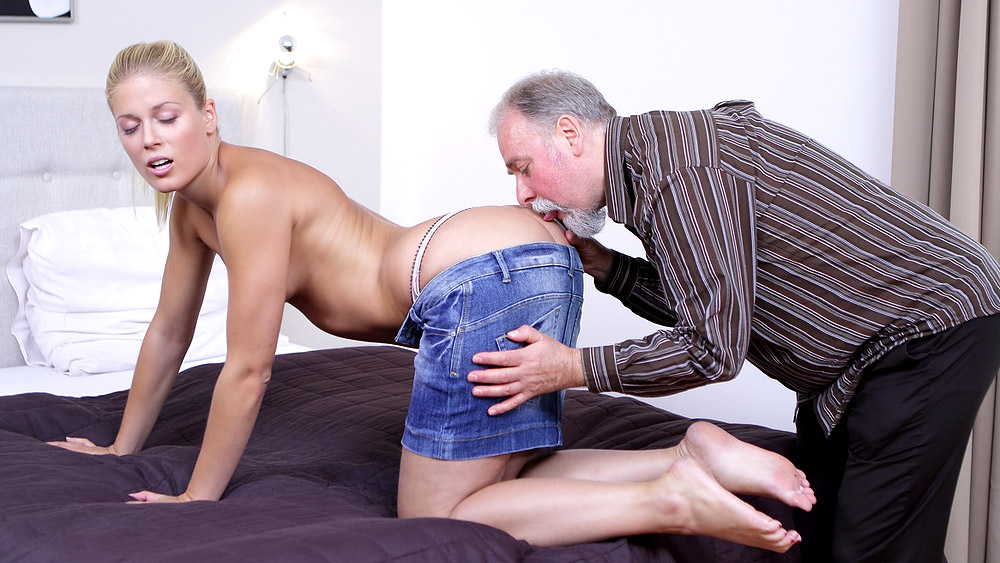 Length: 43:16

This old guy met Elena at the local coffee shop and convinced her to go to his place. He wasted no time once they got inside, and started kissing her and gently held her boobs. Slowly and methodically he unbuttoned her shirt and started caressing her tits and sucked on her nipples. Next her denim skirt came off as she bent over on her hands and knees. And as her ass slowly got exposed he kissed her ass cheeks. Then he flipped her over and hungrily ate her young pussy! Elena finally got to suck his dick and then let him fuck her from a variety of positions and they finished off with him blowing his load on her face, breasts and body!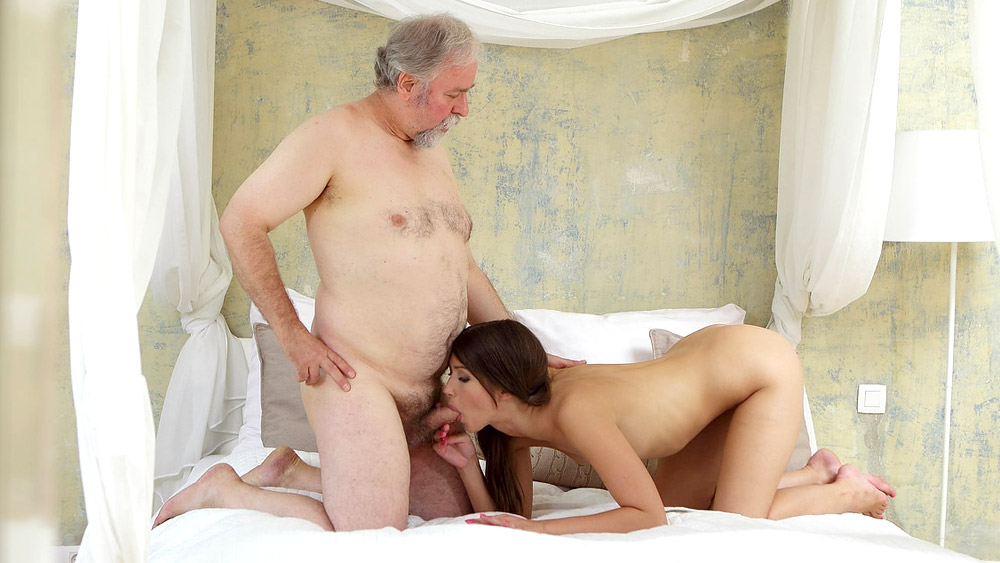 Length: 30:11

Marisa was sitting with this old dude and the conversation was pleasant enough she decided to share a bottle of wine with him. After a few drinks he talked her into changing into her robe only. After a few more sips she showed him her young naked body and from there he took her into the bedroom where she gave him a blowjob. She really got into sucking the old man's cock and she absolutely loved it when he put his skilled tongue to work on her shaven pussy! She then got on top to feel his cock as deep as it would go before he slammed her pussy from behind! She couldn't believe this old guy was so go in bed and she finished him off by sucking his dick dry!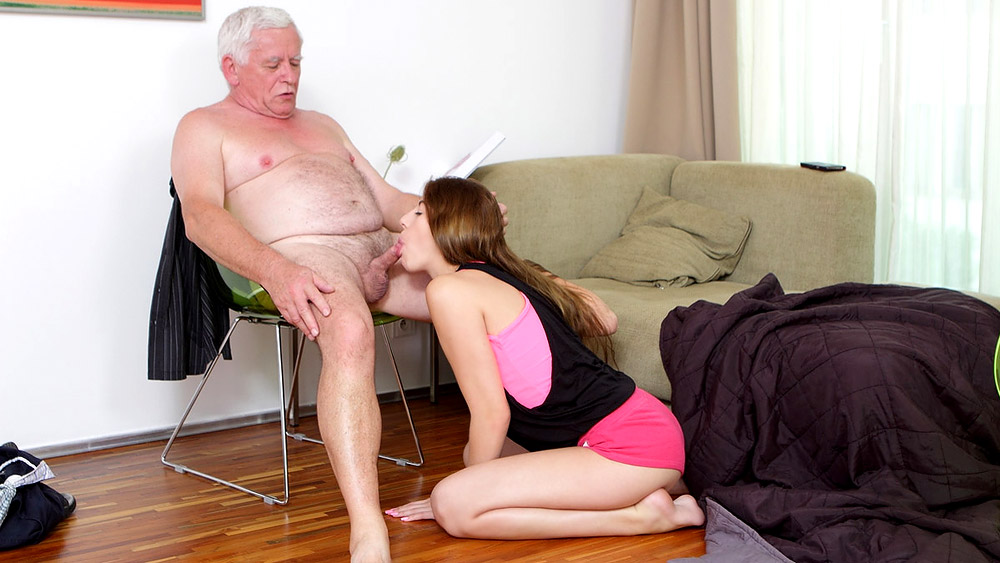 Length: 44:53

Rita was busy studying and didn't realize how late it was getting. So she called for a pizza just so she could keep on studying. But when the old guy show up with the pizza, Rita didn't have enough money. At first the guy was pretty mad, but then she started to rub his stomach and promised to make up for it. She got on her knees and sucked that old dude's cock until he thought he was going to pass out! Then after licking her young pussy, he fucked her from the front and back and then shot his load all over her pretty young face!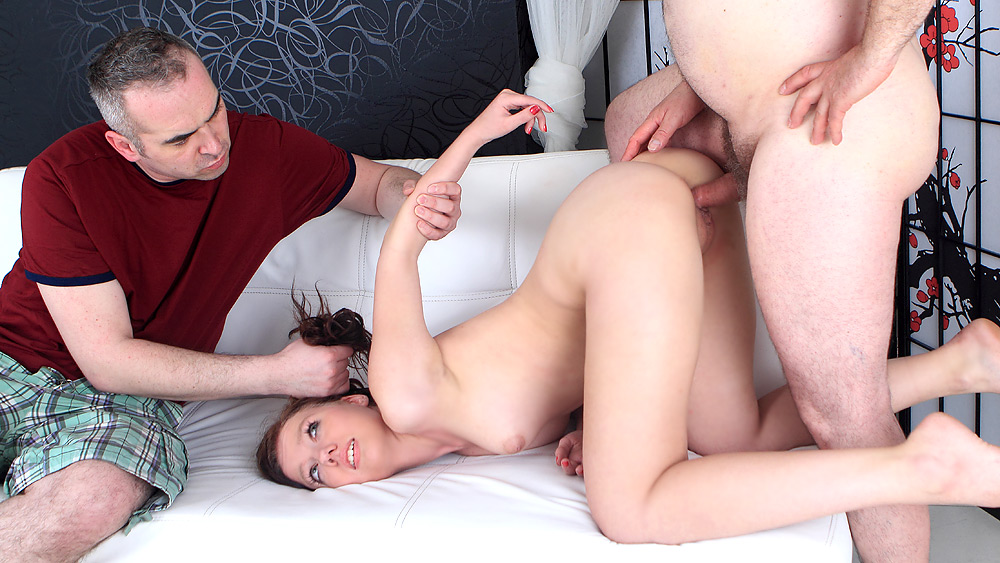 Length: 44:40

After being introduced to her boyfriend's friend, this cute young babe decide to let the old guy first play with her tits and then let's him take off all her clothes and lick her pussy! He does such a good job she gets on her knees and sucks his old man cock. Then they get back on the couch and he fucks her pussy until he is ready to pop. And then her boyfriend comes back and holds her down while the old dude blows his load all over her tits!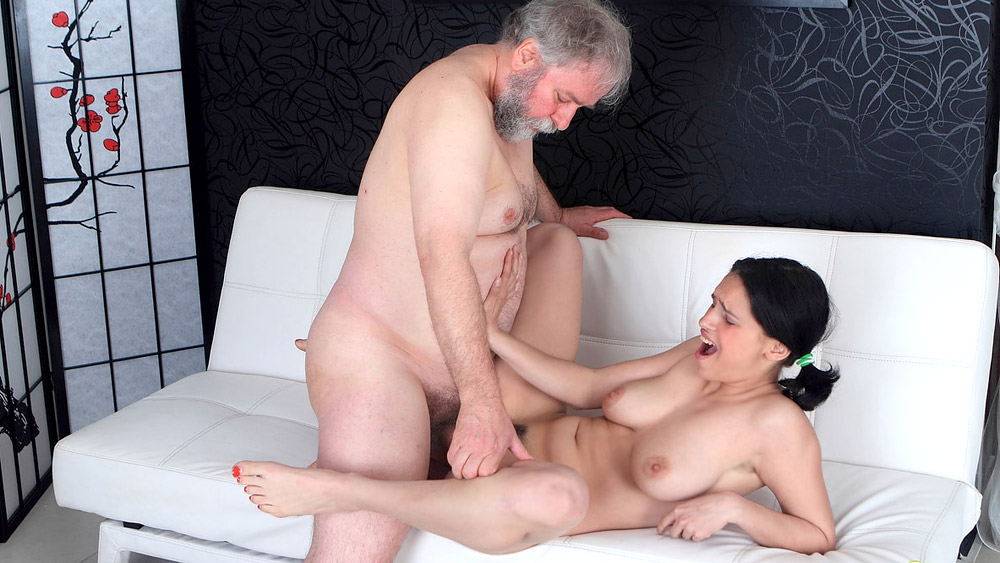 Length: 35:28

It took awhile but this dude was able to convince Diana to fuck this old guy. They sat on the couch while the old man played and sucked on her perky tits and hard delicious nipples. And after getting her pussy licked, she just had to have his cock in her mouth! And after fucking in a variety of positions including getting her pussy stuffed from behind, The guys had her get on her knees and the old dude blew his load while she smiled because she loves cum all over her!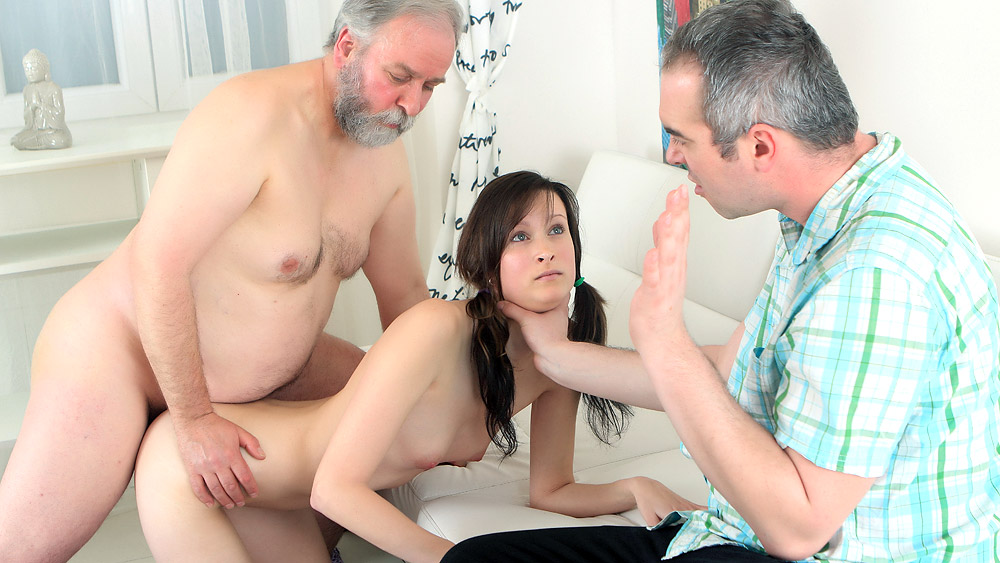 Length: 37:58

When you see a cute little brunette like this babe and you're a mature man, what options are open and available to you? Jenya here is a cute little whore with a killer body that loves Jurassic cock. Sit back and watch what happens when this older man cracks onto her and ends up balls deep in that sweet, barely legal snatch. He can't believe his luck and makes sure to pleasure Jenya until she's practically gushing with erotic bliss. He sure knows a thing or two about pleasing sweet teen treasures like Jenya.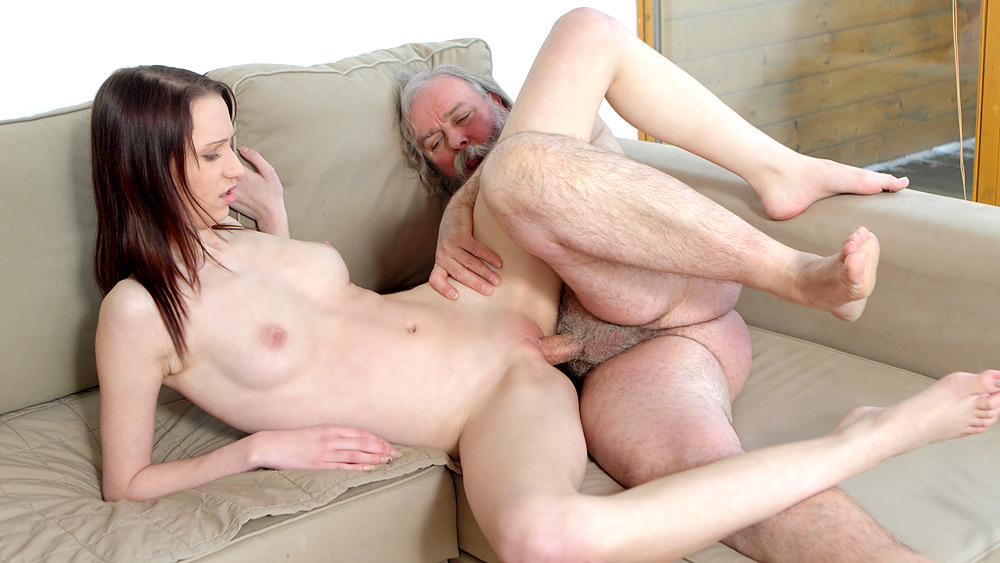 Length: 43:23

Alina is hanging out with her boyfriend when an old man shows up. He's hungry for some tight pussy and pounces on Alina's young body as soon as the other dude is out of the way. Alina has always wondered what it would be like to bang an older man, and now she's finally able to get herself a slab of Jurassic cock. Will she be able to handle the orgasms that this old man pumps into her tight young pussy? She sure as hell looks ready to explode with pleasure once he's inside her warm, moist hole.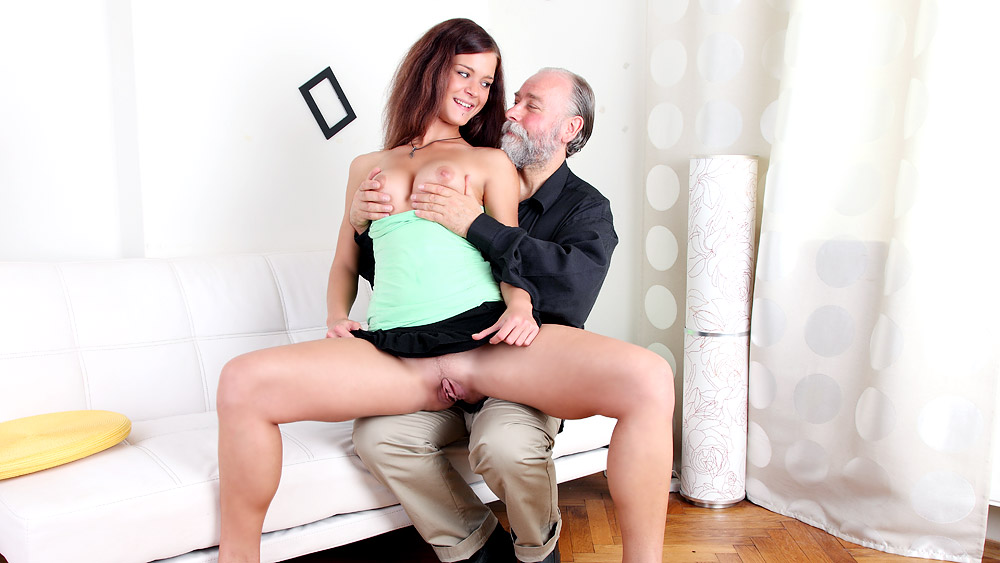 Length: 31:29

Alyona is a sexy and big breasted woman and she sits on the lap of her older man. She spreads her legs wide open and he immediately goes to eat out her shaved pussy. After having her pussy eaten out, she gets on her knees and she gives him a blowjob. She sucks his cock as she fingers her pussy and gets off. She climbs on top of him and he fucks her younger pussy as she rides him good. He then takes her on her back and fucks her younger pussy deep and hard and finishes her off doggiestyle until she finishes all over her tits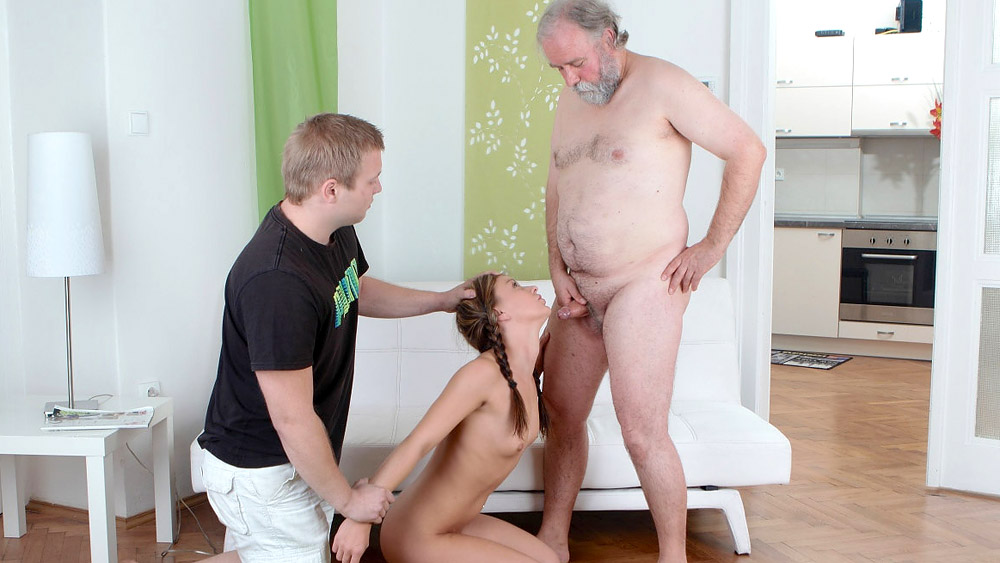 Length: 36:19

Anna is a young and sexy girl, and with her man they discuss bringing over his older friend to fuck her. When he arrives, he takes off her top and licks her young and shaved pussy. She loves his older tongue inside her, and leads to her on her knees to suck his cock. She gets him hard and he lays he down and fucks her deep. She rides his cock and then is bent over being fucked doggiestyle. She is joined by her man and she sucks him until he cums all over her tits when finished and covers her well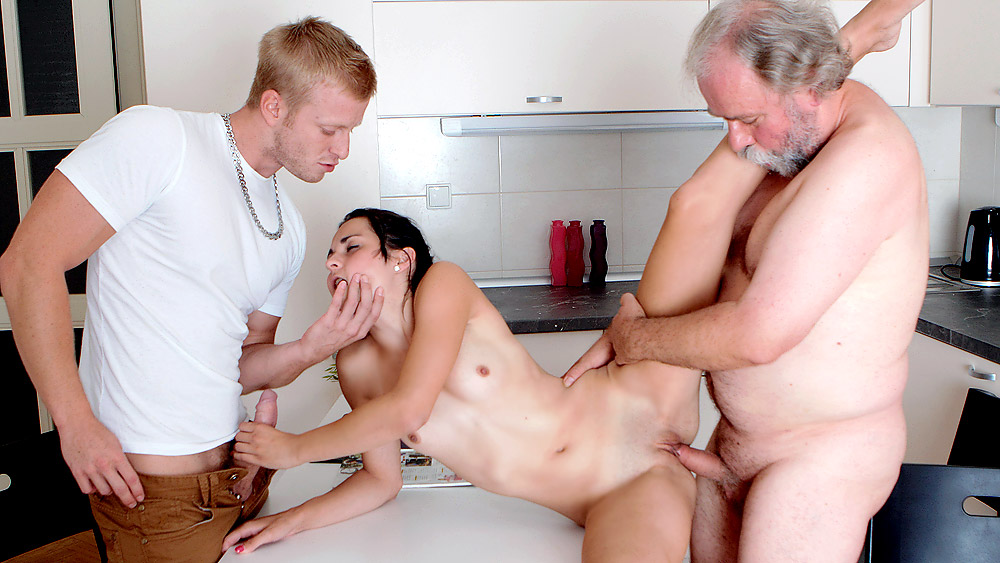 Length: 30:58

Lora is a sexy young brunette who shares time with her man at the table. He invites his older friend over and he undresses her right away. He starts to kiss and suck her breasts and then moves into licking and eating her pussy. Her young pussy is licked deeply, and then gets on all fours to give a blowjob. She engulfs his older cock and gives a great blowjob. He then puts her on the table and fucks her tight younger pussy hard. She has her man join in and gives him a blowjob while being fucked by her older man. A threesome for sure.